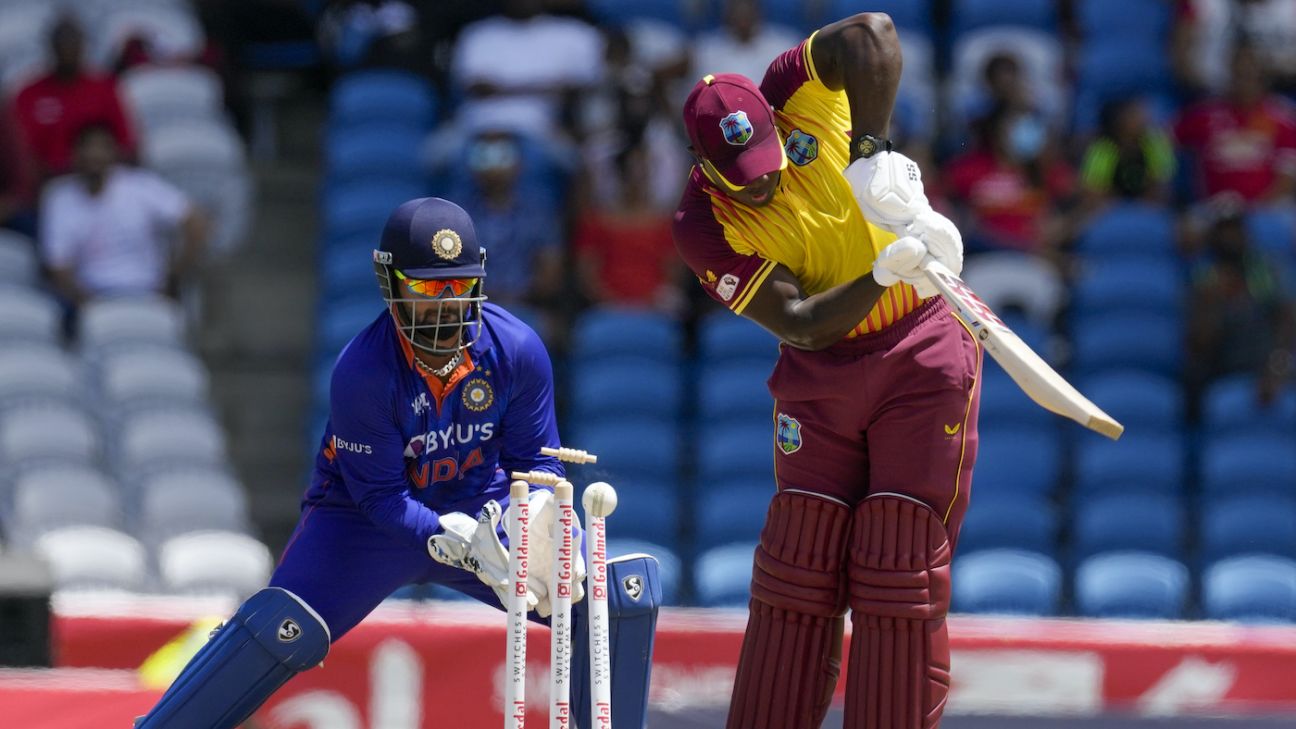 So, a one-sided affair to start with. A 191-run chase was always going to be tricky on this two-paced surface and fair to say, West Indies got nowhere close. Well, it is time for us to sign off from here. However, there is still some cricket to look forward to with Barbados playing Pakistan at the Commonwealth Games. On behalf of Sudarshanan and Thilak, here's me Ashish, signing off. Goodnight and see you soon!
And finally, the Indian captain, Rohit Sharma : [Assessment of the playing conditions]: The nature of the pitch, we knew was slightly going to be tough. The shot making was not easy at the start. At the same time, we do understand that the guys who are set need to carry on as long as possible. There was some grip for the spinners. The odd variation wasn't easy to pick. The nature of the pitch was slow. It was not easy. The way we finished off the first innings, getting to190 was great. I really thought this wasn't the pitch where you could get 170-180 when we were batting in the first half of the innings. But we hung in there, backed our skills and got more than a par score. [On the aggressive intent] We want to try certain things when we bat in the first six overs, when we bat in the middle overs and how we finish off the games. There are three facets which we want to improve and see how we can get the better of each player. We have given a specific role for the specific players to come and do the job for the team. Today we did it. There is no guarantee that it can happen every game but we have got to try and back those ideas of trying to go out there and trying to execute certain skills with the bat. And, while doing that, you will have some od failures, but we are okay with that. We want to do certain things when things, and I think we are able to achieve certain things. All in all, it was a great effort. We want to continue doing that. But again we need to understand what sort of pitch we play on. Certain pitches will not allow you to do that. So. you will have to take a backward step and see how you can play in those over. The guys have a lot of skill, they have played on all sorts of pitches back home. They just need to back those skillsets. The Indian team has received very good support here in West Indies and we want to provide them with entertaining cricket.
Here's West Indies captain Nicholas Pooran: Disappointed as a team. The crowd here has been absolutely amazing and we have disappointed them. The players have been feeling very hurt but this is the first game of the T20 series and we will look to bounce back. [On being forced to have five fielders inside the circle in the last two overs] Yes, it was. In 18 overs, it was 150, we were indisciplined and we paid the price and the guys know that. 190 was always going to be challenging. We got a good start but the batters did not carry on. We lost wickets everytime we had some momentum and that cost us. We had already lost four wickets in the first ten overs and that cost us the game. [On the decision to include just one spinner] In the hindsight when you look at it the spinners did bowl well. Out mindset was to restrict them to 170-180, with the extra allrounder, we would have been able to chase it.
Dinesh Karthik is the Player of the Match: The wicket was a little sticky. Was not a good wicket to start on but once set, you got the pace of the wicket and you realised what kind of shots you can play. [On the finisher's role] I have been enjoying it a lot. it is a very interesting role. It is not something that you can be very consistent with but on some days, you can make an impact on the team. You need the backing of the captain and coach and I have got that in abundance. [Things to do to be successful in finishing off the innings] Assessing of the wicket is important. On any given day, the last three-four overs that you bat, you need to be aware of a lot of things such as the shape of the ball, the softness of the ball, the wicket, and then you need to decide. These are a little bit of things and that comes with a little bit of practice.
Time for presentation.
Meanwhile, 14-year-old squash player Anahat Singh, the youngest member of India's Commonwealth Games contingent has just secured a stunning 11-5, 11-2, 11-0 victory in her first round match. You can read more about the prodigy here .
Ravi: "Indian bowling today – two bowlers conceded 5.50 runs per over. Two bowlers 6.00 and two bowlers 6.50."
2.10pm India take a 1-0 lead in the five-match series. It took Karthik's cameo for India to reach 190 but as far as the bowling is concerned, they were on point. None of the bowlers conceded more than 6.50 runs an over as they collected wickets at regular intervals. A target of 191 was always going to be tricky but West Indies were never really in it. They started off strongly but none of the batters settled in as they lost wickets too quickly. Arshdeep, Ashwin and Bishnoi all took two wickets each while Jadeja and Bhuvneshwar claimed one wicket apiece.