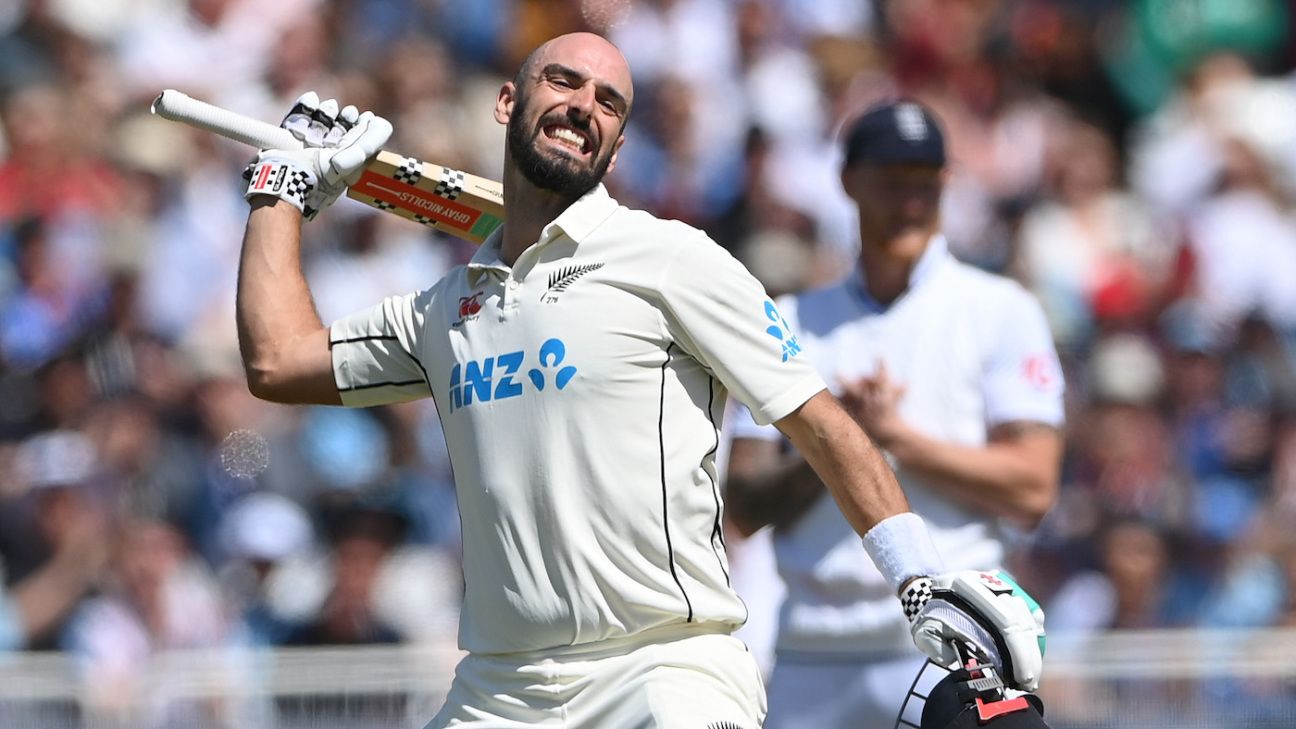 7.22pm: Right, that's all from us today. Make sure you check out Valkerie Baynes' report and come back later for analysis from Alan Gardner and Osman Samiuddin, who are both hard at work at Trent Bridge. Thanks for your company, Miller and I will be back in the morning.
Daryl Mitchell's turn to speak to the BBC: "Not really bothered about the double. It's a nice surface. You can see the way England played tonight. For me it's about trusting my skills. It's always cool to get some scores. [Dropped early?] When you get a few chances, you need to make the most of it, and you need a bit of luck in this game. We created three chances tonight and we know that if we keep putting the ball in the right spot for a long time, we'll have a chance. That's the nature of the game. The first one I'd back myself nine times out of 10 and the second one was a reaction catch… hopefully I can take the next few. [Blundell] To miss out at Lord's and get one today is special. We had some good fun out there."
Marcus Trescothick, England's batting coach, is speaking to the BBC: "It's good to see the guys having a good time out there and scoring runs after a tough couple of days. [Drops by both sides?] You try and make the most of it when you get opportunities as Mitchell did – I don't think there's any real explanation. [Pope?] We're just trying to find the right balance for him. It's about getting in, getting used to their bowlers and the pitch. He has the talent and the temperament. Another big day tomorrow but it's great working with him, Alex Lees, Zak Crawley – trying to help them get better. [Lees?] He's a rock, really. Very solid defence. He's just fitted into the team really well. [Pitch?] There's still the odd occasion where they get the ball in the right place and it does a little bit, like Crawley's dismissal tonight. You can be challenged. It's for us tomorrow to continue what we did today. [Tired bodies?] Naturally, 140 overs in the field takes it out of anybody."
7.06pm: And that's stumps on a long second day, with England closing 463 behind for the loss of Zak Crawley. It's not been flawless from Pope and Lees – Daryl Mitchell dropped both of them at first slip – but they have both played well and survived the final session. 325 runs in the day for 7 wickets in 84.3 overs, with Mitchell dominant – but the cruel nature of this sport is that he will probably spend tonight rueing those drops rather than reflecting on his magnificent 190. New Zealand are clearly still in control of this game but the impression from the first two days is that this is an excellent pitch for batting.
Tony Torrance: "49 for 5 from when Bracewell was out – NZ were 496 for 5. I think the day was shared today. England fought back well since Tea."
Edmund: "Flat pitches make dull test matches. Give me wickets falling in torrents as at Lord's any day. Even already at the end of Day 2 this match has DRAW written on all over it." — I'll hold you to that on Tuesday evening!