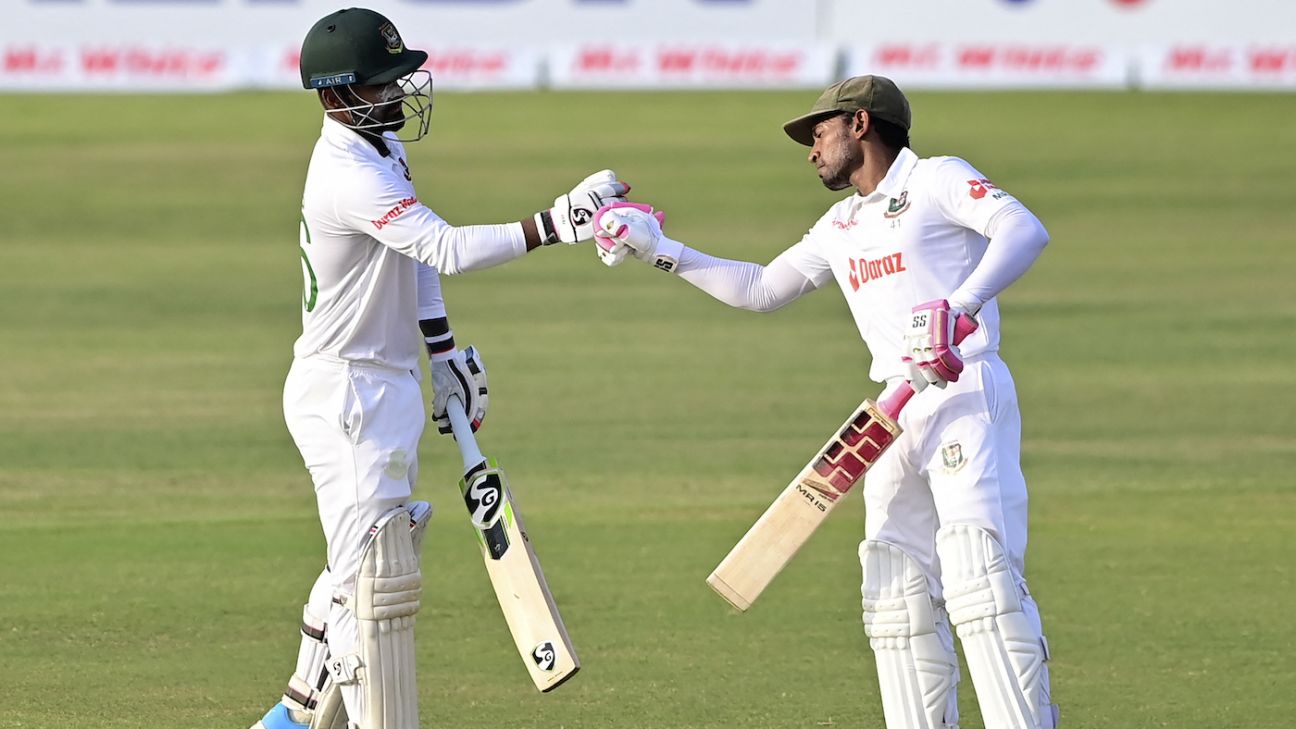 We're all set after a delayed start. Ramesh Mendis to start proceedings
Rabbul: "Not sure why everyone is talking about draw too early? If sl can wrap bd cheaply and get some quick runs in 2 session and ask to chase 250 whole day tomorrow then it might be tricky for bd. On the otherhand if bd can take the lead around 200 today. Sl might be in tricky position also."
Takin: "All the commenters who are ready to shake hands for both the captains are seems like in mindful about the history of falling apart by both the teams. "
Bat: "@Sam, I still believe in Liton's ability to shine in all formats. He just needs to find out the trigger for T20s like he did for Tests and ODIs. He is still young enough to find that trigger!"
10.08am Play to start at 10.30 local time, which is a little more than 20 minutes from now
Islam: "This match is heading to Draw, as weather forecast we expecting some rain here and there on last 2 days of this test match. All the BD batsman can look at their personal achievement form this match. No result for sure."
Subrata : "What is the current weather conditions in Chattogram? Any chance of rain again?" It has stopped raining, the covers are off and the pitch is being rolled with a light roller
Imam: "As a romantic man….i obviously want rain….but not today plzz….!!!"
Sam: "@bat Liton should be used for test n odis only as playing t20s will decrease his performance just like fizz should be used for t20s n odis only as tests will decrease his performance. Between, chattogram pitch gets batting friendly in time so i think it will be a draw unless…"
The covers seem to have come off and the umpires are out there in the middle inspecting the conditions
Sohel: "If Bangladesh can put a lead of 150 runs, then certainly they will have a chance to win the game. As Ctg pitch will start playing its role from today (may be the later part of today). So acceleration in batting might be a plan. "
AG: "No no! Don't give us bad news already about the rain isam I was looking forward for the 4th day all day today now that the time of starts come plz no rain. "
There's an inspection scheduled for 10am, which is a little more than ten minutes from now
Bat: "Liton Das is surely the next big thing for BD cricket. Test cricket is the real exam that every cricketer has to pass to become a legendary and Liton has started showing his true class in Test cricket! Hail Liton!"
9.40am Some rain in Chattogram this morning, informs our man Isam from the venue. But already the sun is out too. But there's likely to be some rain around. Some dark clouds hovering. In fact, it's raining near the venue now is the latest update from Isam.
Faisal: "Can tamim come out to bat now? Or he must wait till a wicket falls?" Only after a wicket falls
Jahangir Alam: "The temperament shown by BD batters throughout the was incredible. They should back themselves and make an example for future to go ahead in test arena. "
Sri Lanka coach Chris Silverwood reckons the match is finely poised but a result might depend on whether Bangladesh decide to push things on the fourth morning.
9.15am Good morning and welcome to our coverage of Bangladesh vs Sri Lanka. Day 3 was dominated by Tamim Iqbal before he was forced to retire hurt with cramps on 133 (his first Test hundred in over three years), ever so close to 5000 Test runs. Mushfiqur Rahim, too, closed in on the same milestone as Bangladesh went to stumps in a commanding position. Kasun Rajitha, the concussion sub, was Sri Lanka's most effective bowler. After the Bangladesh spinners took all ten wickets in the first innings, Sri Lanka would have expected their spin attack to have more of an impact, but they haven't picked up a single wicket yet and that shows on the scoreboard. Here's Mohammad Isam's report if you missed any of the action yesterday.