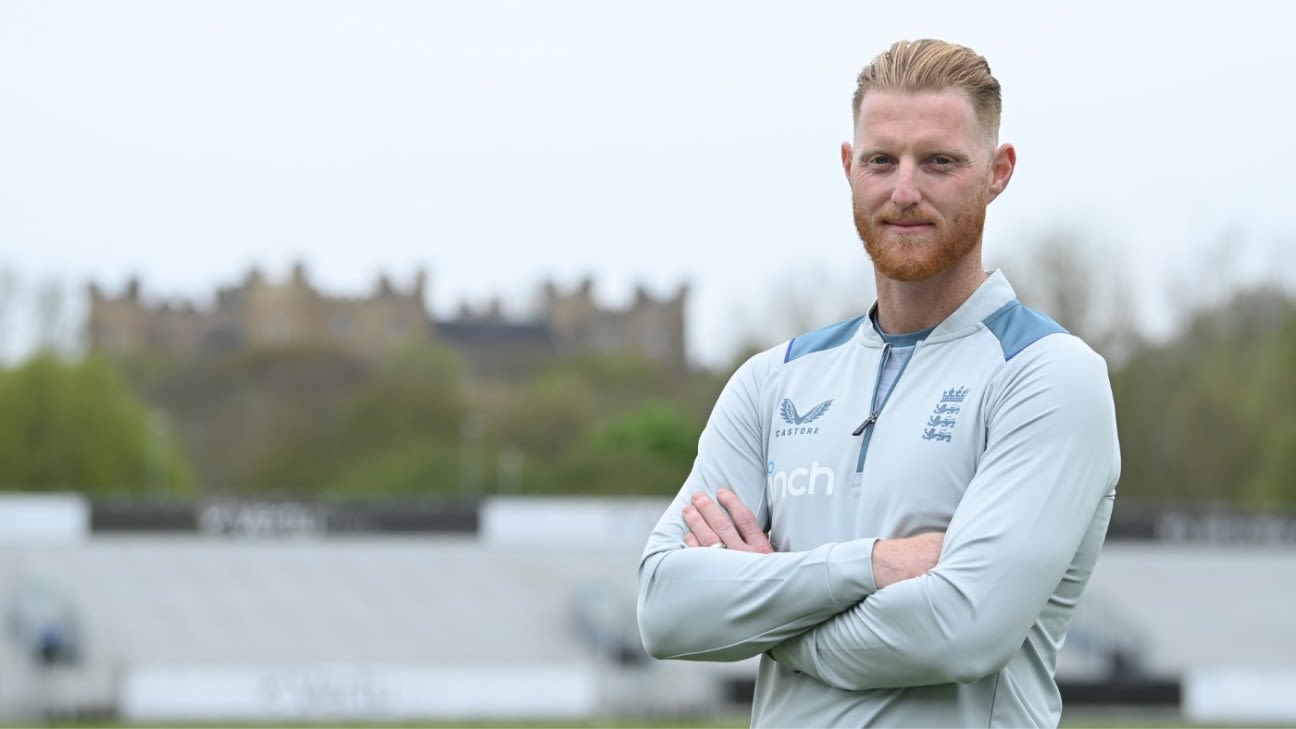 Ben Stokes
, England's new Test captain, says he expects a team of "selfless" cricketers to take the field alongside him, starting with next month's first Test against New Zealand at Lord's, as the squad begins the process of turning around a run of form in which they have achieved one victory in their past 17 matches.
Stokes, who was officially unveiled in his new role at a press conference in Chester-le-Street, dismissed doubts about the wisdom of handing the captaincy to the team's pivotal allrounder as a "media thing", but insisted that when it comes to managing his workload – including balancing his role within the white-ball squad and opportunities at the IPL – "Test cricket is my No.1 priority".
"It's an exciting time for myself but it is a challenge, especially after how the last few years have been," Stokes told Sky Sports News. "But for me, it's not about focusing on what's gone in the past. It's all about focusing on what we've got going forward and obviously that starts now, and then starts [at Lord's] on the second of June."
Although Stokes has captained England's Test team once before, against West Indies in 2020 when Joe Root was absent on paternity leave, he never actively courted the full-time role. However, despite admitting he took a moment to consider the magnitude of the position when Rob Key, England's new director of cricket, called to offer him the captaincy, Stokes confirmed he had little hesitation in accepting.
"Not long," he said. "Obviously you need to give it some consideration because it's not a role that you can just go 'yep', because you've got to think about everything else that comes with the job. But no, it didn't take me very long. And it's not exactly a role that you can turn down.
"There is a lot that needs to change, not just from on the field," he added, alluding to the wider organisation issues that have hampered England's progress in recent years – including the much-vaunted high-performance review that the ECB are due to undertake this year.
"Those kinds of things will be going on, and those discussions will be had, they're not really to speak about here," he added. "But in terms of on-the-field stuff, a great starting point for me is I want to have selfless cricketers who make decisions based on what they can do to win a game in that given time.
"Because, at the end of the day, you're always judged on winning games. That's always been the most important thing to me. The decisions I make are based around what is the best thing to do to give us that chance. I want to have 10 other guys out there with me who are of that same mindset."
Despite England's poor recent record, which included a 4-0 Ashes loss in Australia this winter, and another losing tour of the Caribbean – a venue where they haven't won a series since 2004 – Stokes insisted that the circumstances in which the team has played its cricket in recent years was a major factor, and defended the players and team spirit that his predecessor Root would be passing onto him.
"I don't think it's [about] a culture change at all, because we've got a very, very good culture going on in the dressing room, not just across our red-ball stuff, but in the white-ball team as well," Stokes said.
"You've got to understand that, having gone through what the England cricket team have gone through with COVID and everything, and with results and stuff like that, it is going to have a knock-on effect. But my role is to get that out of everybody as quickly as possible and make sure that we're focusing on what's ahead of us.
"A great saying that I live by, especially with cricket, is you're only as good as the next game. That works very well with the good performances and the bad performances as well."
Stokes is due to play his first match of the season for Durham against Worcestershire this week, having been managing a knee injury that affected him during the tour of the Caribbean. And given that he endured a high-profile absence from the game last summer, following a badly broken finger and subsequent mental-health issues, there were some understandable concerns about whether it was prudent to expect him to take on yet another burden within the team.
However, Stokes insisted that far from being a reason to turn down extra responsibility, his high-profile issues would leave him even better placed for helping other players to manage the pressures of elite-level cricket.
"There's always a negative feeling around mental health," he said. "But I took my break, I went and spoke with people, and I will continue to do that. I see it as a positive that me being in this role now, having gone through what I went through last summer and even before that, that I've got a huge amount of experience in what the game and what life can throw at you.
"And I've always felt that I was someone that senior players and younger players could come and speak to, if they felt like anything was getting on top of them or they weren't happy with anything, and I hope that continues. So I don't see any of this as a negative whatsoever. I just see it as a huge positive that I'll be able to relate to a lot of different scenarios that cricket and life can throw at you whilst being an international cricketer."
Moreover, Stokes insisted once again that he is his own man, and not pre-destined to follow in the footsteps of the last two prominent allrounders to take on the England captaincy.
"The people who write all that stuff are obviously taking that from other people who have done the role and been the allrounder," he said. "I've had to live with the tag of Andrew Flintoff and Sir Ian Botham since I was 18. But I've always maintained that I've never tried to be Andrew Flintoff or Sir Ian Botham. I'm Ben Stokes.
"My workload is not going to increase because I'll still be playing the same amount of cricket, but in terms of what's at the top of my priority list, it's the Test team and Test cricket going forward.
"I'm sure there will be conversations to have with the likes of Rob Key and Eoin [Morgan], who's captain of the white-ball team, to see where there is some potential to have some time off to get ready, because I know I've got a huge role here in getting this Test team back to winning ways.
"I'll be putting all of my efforts and energy into doing that. So, we have obviously got to be very careful about how much I do, but in terms of the workload going up, it's not going to change because I'll still be playing cricket for England regardless."
Andrew Miller is UK editor of ESPNcricinfo. @miller_cricket