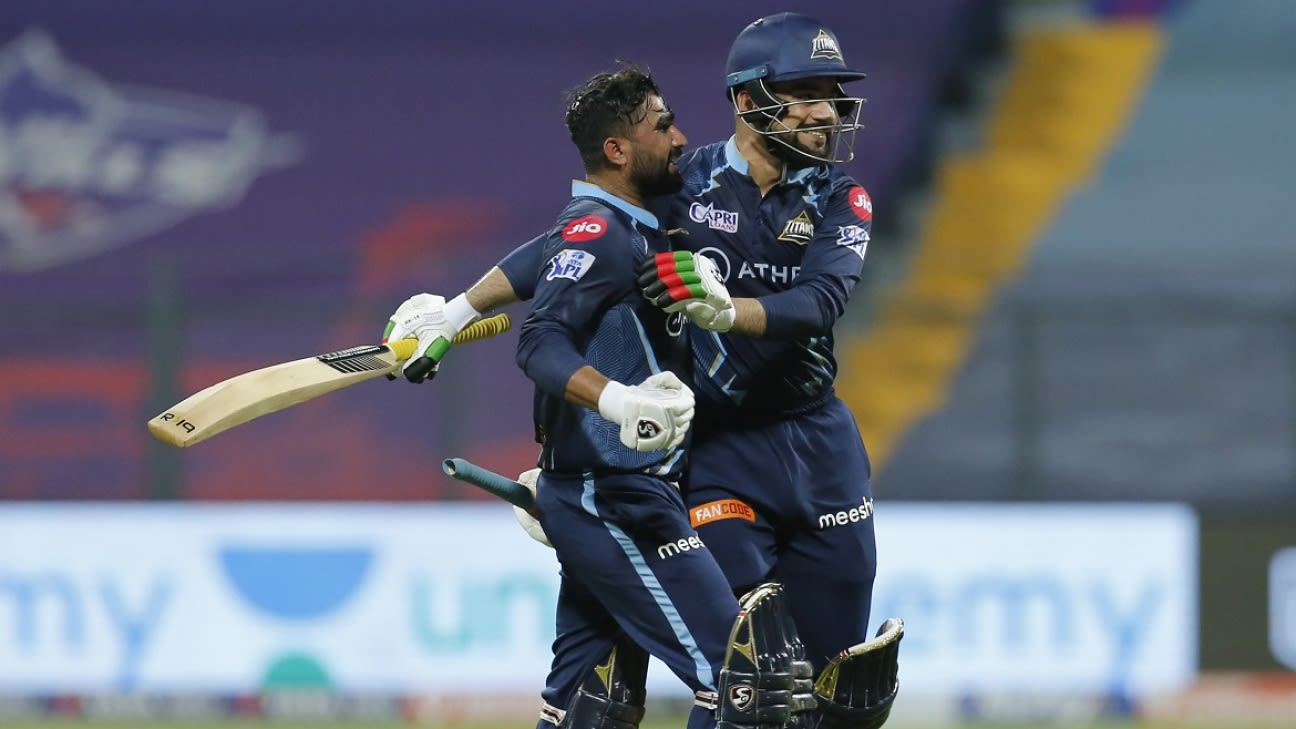 Gujarat Titans 199 for 5 (Saha 68, Tewatia 40*, Rashid 31*, Malik 5-25) beat Sunrisers Hyderabad 195 for 6 (Abhishek 65, Markram 56, Shashank 25*, Shami 3-39) by five wickets
A 21-year old and a 22-year old made the world sit up and take notice.
Abhishek Sharma
carved up
Rashid Khan
.
Umran Malik
roughed up Hardik Pandya. The new kids were gunning for the old pros. And it made this game all kinds of breathtaking. The result, if anyone cares, is that Gujarat Titans chased down 196 to beat Sunrisers Hyderabad by five wickets. But honestly, this was way more. This was the IPL at its most vivid, pulse-pounding, heart-breaking best.
Because in the space of 40 overs, we saw the future of Indian cricket and the enduring brilliance of one the greats in T20 history. Rashid actually did the unthinkable twice, bowling
his fifth-most expensive spell ever
but then turning around and hitting three sixes in the final over and winning the game off its very last ball.
To get it to that point though, Titans needed
Wriddhiman Saha
at the top, scoring 68 off 38 and
Rahul Tewatia
in the middle, plundering an unbeaten 40 off 21.
The most unreal battle
Abhishek has come up against Rashid only once before. But that's in an actual IPL match. Who knows how many times these two had sparred at Sunrisers training. And if events on Wednesday were any indication, they missed out on a massive money-making opportunity. Charging admission to the nets while those two did battle would have raked in puh-lenty because the 21-year-old kid kept pwning a modern-day master.
Rashid ended his night with figures of 4-0-45-0. Abhishek was responsible for 34 of those runs, which came at a strike rate of 226, a massive improvement on the figure (
107
) left-handers usually manage against the Afghanistan ace in this tournament.
Titans had done their homework. They knew Aiden Markram was going a mere 115 runs per 100 balls of spin this season. They brought Rashid on to counter his threat, but Abhishek's presence at the other end completely killed the plan. There was even a moment that signalled loud and clear that the youngster was picking the variations out of the hand. In the 15th over, when a ball was dropped short on leg stump, Abhishek didn't shape to pull but instead made room for himself and straight-bat lofted it over cover because he had seen it was the googly.
That one moment exemplified this whole head-to-head. Rashid Khan was no mystery to Abhishek Sharma.
The surprise cameo
Shashank Singh
is 30 years old. It was already 2019 by the time he made his professional debut. This game is cruel enough. But to start so late…
Except this is the IPL era. There are 10 franchises with tons of scouts whose networks reach the very corners of the country. If you've got talent, you're going to be found.
Shashank strikes at 142 in T20 cricket. He goes at 99.25 even in one-day cricket. He's a born and raised big hitter. Just needed the stage to show it off. Well, here it was.
Lockie Ferguson ran in to bowl the 20th over and Shashank thumped him for 6, 6 and 6. The first was pure reaction. The ball was full. He drove on the up. Six down the ground. Now the mind games began.
A fast bowler getting hit out of the park usually comes back with a bouncer and Shashank was waiting for it. Boom. Six over midwicket. A fast bowler leaking runs in the last over goes back to basics. And Shashank, yet again, was waiting for it. Yorker turns into full-toss. Scooped for six over fine leg.
Markram was supposed to be Sunrisers' pace-hitter, and he was, scoring 56 off 40 balls in a third-wicket partnership with Abhishek that contributed 96 off 61. But the innings that took Sunrisers all the way up to the stratosphere came from a total unknown.
The most unreal five-for
Malik needed only four deliveries to break through. Until then, everything the Titans touched was ending up on the boundary.
Saha is a deeply underrated batter, especially in the powerplay,
where his strike rate of 134.04
has him rubbing shoulders with legends like Virender Sehwag, Adam Gilchrist and Chris Gayle.
He was single-handedly leading a team with a flawed top three into a winning position. But then Malik came on and broke his opening partner's stumps. 69 for 1. Then he broke Saha's stumps. 122 for 3. Then David Miller's. 139 for 4. And finally Abhinav Manohar's. 140 for 5.
This was a visceral spell of fast bowling. Most Malik spells are because he is all about speed. He runs in from a distance. He explodes into the crease. And the ball comes out as if shot through a cannon. Only the very best batters can handle such a barrage. And even they are no match when a delivery at 150 kph lands in the perfect spot.
Saha was done by an inswinging yorker. Manohar was taken out by one that seamed away off the pitch. Hardik was beaten for pace, the first ball he faced bruising his his back shoulder, another one catching him halfway into a pull shot. Let that sink in. Malik caught Hardik and his ferociously quick hands halfway through a shot. He really is that quick
Tewatia time
At the end of Malik's spell (4-0-25-5), ESPNcricinfo's forecaster gave Titans a 12% chance of winning the game. And that was enough to wind Tewatia up.
The required rate was 17.5 when he sent one of the season's best death bowlers for 12 runs in the 19th over. T Natarajan missed his yorker by just a few inches and that was enough for the full-time miracle worker to smash it over deep midwicket for a six.
Still, Sunrisers had 21 runs to play with in the final over. But that came down to 15 when Tewatia slog-swept Marco Jansen's first ball for another six. That bent-knee strike is just lethal, and has a range spanning mid-off to square leg. All it takes is the slightest mistake from the bowler and Tewatia is already under the ball, preparing to send it into orbit.
Even with all that, it came down to Titans needing nine off the last two. Jansen knew this was it. He had to win the game with this ball. His best bet was hiding it from the batter's reach. Wide yorker.
Sliced for six.
Rashid broke the game open with that shot. And he was able to do that because he knows the way a bowler will think in that situation. After that, it was just a matter of those incredible wrists powering the ball over the rope.
Three off one now. Jansen goes slower bouncer. Rashid hooks on instinct. It flies to long leg. Natarajan is there. He leaps. The entire ground country holds its breath. A split second stretches into eternity. The ball beats the fielder. By inches. And the game is over.
Except it's not. Because we'll still be living it for years to come.
Alagappan Muthu is a sub-editor at ESPNcricinfo