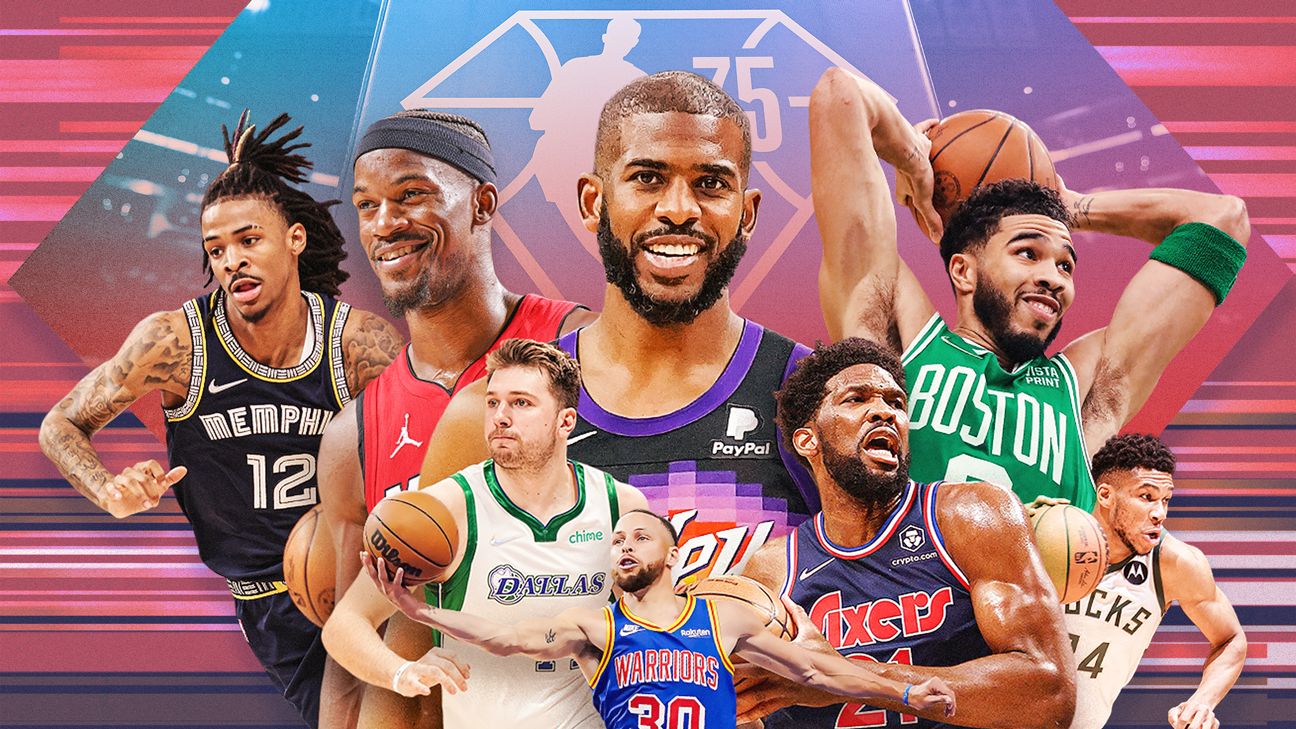 The NBA postseason is here, and the 75th season in league history could deliver one of its most wide-open chases to the title.
The Phoenix Suns ran away with the league's best regular-season record — eight games better than their closest challenger — but can Devin Booker and Chris Paul lead a second straight run to the Finals? They'll have to contend with a host of Western Conference contenders, including Luka Doncic and the dangerous Dallas Mavericks, reigning MVP and current award favorite Nikola Jokic and the Denver Nuggets and Ja Morant and the young but bold Memphis Grizzlies.
Oh, and the Golden State Warriors are back in the playoffs for the first time since reaching the Finals in 2019.
In the Eastern Conference, the bracket is so tightly packed that the Nos. 1 through 10 seeds are separated by just 10 games. According to ESPN Stats & Information research, it's the closest for any conference since the NBA-ABA merger in 1976-77.
The Miami Heat lead the way, but Giannis Antetokounmpo and the defending champion Milwaukee Bucks, Jayson Tatum, Jaylen Brown and the surging Boston Celtics and Joel Embiid, James Harden and the revamped Philadelphia 76ers were on Miami's heels throughout the second half.
And we didn't even mention the Brooklyn Nets, who, after an injury- and drama-filled season, are lurking in the play-in tournament. If Kevin Durant, Kyrie Irving and the Nets make it to the opening round of the playoffs, watch out.
With the play-in and the playoffs just days away, let's break down all the things — 75 things, to be exact — you need to know about the 20 teams still playing for a title, including storylines, stats and stars you can't miss this postseason.
Note: 2022 NBA title odds courtesy of Caesars Sportsbook.


WESTERN CONFERENCE
---
1. The Phoenix Suns are on a redemption tour
The Suns are trying to become the 15th team in league history to lose in the NBA Finals and then win the championship the following season. The last team to do so was the Warriors in 2016-17, who added Kevin Durant after their 73-win team fell short against the Cavaliers in Game 7 of the 2016 Finals.
Doris Burke sits down with Chris Paul and Devin Booker to break down some of their best plays of the season.
---
2. Booker might be the most under-the-radar MVP candidate ever
Devin Booker averaged 26.8 points, 5.0 rebounds and 4.8 assists on the league's No. 1 team. While Booker didn't check all three boxes, all 12 players in NBA history to average 25 points, 5 rebounds and 5 assists for the team with the best record in the league went on to win MVP that season. Booker appears to be a long shot for the award, and the snub could motivate him even further in the playoffs. "I'm not too caught up in that," he told ESPN. "I'm caught up in playing the right way."
---
3. The Point God is fending off Father Time
Should Phoenix make it back to the Finals, Chris Paul will be just one of seven players age 37 or older to start a Finals game since the NBA officially started tracking starting lineups in 1970-71, joining Kareem Abdul-Jabbar, Tim Duncan, Ray Allen, Jason Kidd, Karl Malone and David Robinson.
---
4. The Suns' pregame huddle is must-watch ridiculousness
JaVale McGee has been known to get down on all fours and bark like a dog. Cameron Payne and Mikal Bridges dance like they're a budding act on "America's Got Talent." It's a thing. And it's a whole lot of fun for NBA-best Phoenix.
— Dave McMenamin

5. The Memphis Grizzlies' Ja Morant is about to hit his biggest stage
Morant, who has chastised networks for not giving the Grizzlies enough national TV time, loves the bright lights. And he has produced in pressure situations during his young NBA career. Memphis bowed out in five games to the Jazz in last year's first round, but Morant averaged 30.2 points in the series, including a franchise-record 47 in Game 2. He also had a pair of 35-point performances in play-in duels against Damian Lillard and Stephen Curry.
Grizzlies star Desmond Bane sits with Mike Schmitz to break down his game as well as where he thinks he should have been drafted.
---
6. These Grizzlies are young — and out to make history

The Grizzlies' average age, weighted by playing time, is 24.4 years old. They're the youngest team to finish with a top-two record since minutes became official in 1951-52, according to ESPN Stats & Information research. By that metric, the Grizzlies could become the youngest team ever to make the NBA Finals, a distinction currently held by the 1976-77 Trail Blazers (24.99).
---
7. They found one of the biggest steals of the 2020 draft
Most NBA teams didn't think Desmond Bane had a lot of upside after playing all four seasons in college, a rarity these days for draft prospects. The Grizzlies noted that Bane got significantly better each year at TCU and projected that development to continue. Bane, who played in summer league last year despite being a second-team All-Rookie selection, has emerged as a primary offensive option and a major reason Memphis went 20-5 when Morant wasn't available.
---
8. One of their best young stars finally stayed healthy
Jaren Jackson Jr. staying healthy might have been the most encouraging development of a regular season in which the Grizzlies made clear that they'd be a long-term threat in the West. Jackson had his first three years interrupted by knee issues, limiting him to just 11 games last season. He played all but three games this season, becoming a Defensive Player of the Year candidate and inspiring confidence he could be a franchise cornerstone.
---
9. Morant might pull off something like this:
This Ja Morant Sports Science is incredible 🤯 pic.twitter.com/7x0zig3van

— ESPN (@espn) February 2, 2022
— Tim MacMahon

10. The Golden State Warriors' big three shared the court for … 11 minutes
When Klay Thompson returned to the Warriors' lineup in January, that was supposed to be the final piece to Golden State's puzzle. That was wishful thinking. The day Thompson came back, Draymond Green went out for two months with a back injury. The day Green came back, Stephen Curry sprained his foot. The Warriors' big three have played just 11 minutes together this season. (Their projected typical starting lineup of them with Andrew Wiggins and Kevon Looney has played just seven seconds.) In those 11 minutes, the Warriors had offensive and defensive ratings of 92.3 and 85.2, respectively.
Kendrick Perkins states that the Warriors are missing key elements to take them all the way in the playoffs.
---
11. Jordan Poole played more than 11 minutes — and had a breakout season
When Thompson was working his way back from his injuries, Poole stepped in as the starting 2-guard and got off to a hot start at the beginning of the season. Now with Curry out, he has been plugged into Curry's spot and has excelled yet again. Poole dominated in March, averaging 25.4 points, 4.9 assists and 3.9 rebounds throughout 19 games, scoring 20 or more points in 17 consecutive games and leading the league in made 3s (67).
---
12. The Splash Brothers might have a few cousins
Over the past 10 years, the Warriors and 3-pointers have become synonymous. This season, they added even more shooting to the roster. The combination of Thompson, Poole and Curry will present a defensive conundrum for defenses, especially with Looney and Green as threats down low. And Nemanja Bjelica and Otto Porter Jr. have been reliable bigs who can spread the floor, while Wiggins has also provided some timely buckets. Even Gary Payton II can be counted on to knock down shots from deep. Golden State is averaging 14.3 made 3s per game — third in the NBA — and the Warriors are one of just four teams to have four players (Curry, Thompson, Poole and Wiggins) making at least two 3s per game and shooting 35% or better from long range.
---
13. Golden State's defense started strong but slipped late
Through the first three months of the season, the Warriors' defense sat atop the league with a 102.2 rating. But around February, it took a devastating tumble. It's not a coincidence that this happened around the same time Green was sidelined with a back injury. In the two months Green was out, Golden State's defensive rating plummeted to 110.4, still good enough for eighth in the NBA. But now that Green is back, the Warriors are looking to reassert their defensive mindset.
— Kendra Andrews

14. The Dallas Mavericks' Luka Doncic hits another level in big games
Doncic had a long track record of performing when the stakes were high when he arrived in the NBA as a teenager. He had won multiple championships with Real Madrid, earning MVP of the EuroLeague's Final Four in his last act before making the leap to the NBA, and starred for Slovenia during its Cinderella run to a EuroBasket title. The Mavs have yet to advance past the first round with Doncic, but he has been a dominant postseason force, averaging 33.5 points, 8.8 rebounds and 9.5 assists in two competitive series against the Clippers. Doncic left the season finale with a calf strain, but sources told ESPN's Adrian Wojnarowski there is initial optimism that it is not a significant injury.
Luka Doncic throws the ball behind his head to a wide-open Dorian Finney-Smith for a 3-pointer.
---
15. The Mavs went from worst to first in one clutch stat
Dallas ranked dead last in clutch-time efficiency — minus-34.5 points per 100 possessions — after a Feb. 2 overtime loss to Oklahoma City. The Mavs are an NBA-best plus-41.6 in clutch net rating since. Two major factors in the Mavs' clutch metamorphosis: Doncic playing his way into shape and Spencer Dinwiddie's arrival at the trade deadline in the Kristaps Porzingis deal.
---
16. Their playoff defense will be worth watching
A drastically improved defense keyed Dallas' climb to home-court advantage in the first round. The Mavs went 20-7 during the first two months of 2022, holding teams to 105.7 points per 100 possessions during that span. The Mavs have continued winning despite slipping significantly on that end of the floor since, as the defensive rating spiked to 113.8 from March 1 on. "We have to get back to the details of our defense," Jason Kidd said. "That's what we're built on."
---
17. Jalen Brunson has something to prove
Brunson has positioned himself for a big payday — significantly more than the four-year, $55 million extension the Mavs can offer before he becomes a free agent — but he still has a lot to prove in the playoffs. Brunson missed the bubble playoffs after undergoing shoulder surgery and had a disappointing postseason debut last year, when his playing time decreased over the course of the series. "It sat with me all summer," Brunson said at the start of training camp.
— MacMahon

18. The Utah Jazz' Donovan Mitchell pours in the playoff points
Donovan Mitchell has established himself as one of the premier playoff scorers in NBA history. He ranks fifth all-time in playoff points per game at 28.9 (minimum 25 games), behind only Kevin Durant among active players. But it's yet to result in a deep playoff run. Dominique Wilkins is the only other player among the top 20 in career playoff points per game to never appear in a conference finals.
---
19. Small ball isn't their thing …
The hope was that the free agency signing of Rudy Gay — or perhaps the trade for Mitchell's childhood buddy Eric Paschall — would provide coach Quin Snyder the option of playing small-ball lineups. That hasn't happened. The Jazz's lineups without a traditional center have been terrible, getting outscored by 16.7 points per 100 possessions in 440 minutes this season, according to ESPN Stats & Information research. Those groups have allowed opponents to shoot 68.1% on dunks and layups, which would rank last in the league by a significant margin.
---
20. … And they have a habit of blowing big leads
Snyder took exception recently to the perception that the Jazz are especially prone to blowing big leads. But perception is indeed reality in this case. Utah has lost six games this season in which they held a double-digit lead in the fourth quarter, the most in the league. The Jazz have blown second-half leads of 25 and 21 to the Clippers and Warriors, respectively, over the past few weeks. It's a painful subject, of course, bringing back haunting memories of the Jazz's elimination-game collapse against the Clippers last year.
---
21. The future of the franchise could be at stake
Rudy Gobert joins NBA Today to address his relationship with teammate Donovan Mitchell.
There has been widespread speculation throughout the league that anything but a deep playoff run could lead to drastic changes for the Jazz. In other words, the end of the Mitchell-Rudy Gobert partnership could be on the horizon. "At the end of the day, we have an opportunity today," Gobert said on ESPN's NBA Today. "For us, the most important thing to do is embrace that. When the season is over, the season is over. It's the NBA; no one plays together for 20 years. We know how it works."
— MacMahon

22. The Denver Nuggets' Nikola Jokic is even better than last season … when he won MVP
Jokic has put up some historic numbers this season — he became the first player in NBA history with 2,000 points, 1,000 rebounds 500 assists in a season, and his 32.92 Player Efficiency Rating (PER) set the league's all-time record — while carrying the entirety of the Nuggets offense with Jamal Murray (ACL) and Michael Porter Jr. (back) sidelined. Jokic hopes to have some help for the playoffs, but if he doesn't, the reigning MVP will look to continue the types of performances the league hasn't seen from a center since Hall of Famer Wilt Chamberlain. Jokic averaged 29.8 points, 11.6 rebounds and 5.0 assists last postseason, but he heads into these playoffs having posted massive numbers in March and April — 31.6 points, 13.7 rebounds, 7.5 assists and 62.3% shooting. He did so while winning meaningful games down the stretch as Denver fought to stay out of the West play-in.
Brian Windhorst breaks down how votes have shifted following the latest NBA MVP straw poll conducted by ESPN's Tim Bontemps.
---
23. Reinforcements could be on their way
The one-year anniversary of Murray tearing the ACL in his left knee is Tuesday. The 25-year-old guard has been ramping up his activity, but the Nuggets will be very cautious with a potential return. The same goes for Porter Jr., who has missed all but nine games this season after undergoing lumbar spine surgery in early December. If the Nuggets get one or both players back, no one will want to face Jokic with another offensive weapon by his side.
---
24. Denver may have found its spark off the bench
It's been no secret the Nuggets have struggled when Jokic rests — Denver is 16.4 points per 100 possessions better with him on the court — and coach Michael Malone has tried to find the right mix to keep the Nuggets afloat while their MVP gets a breather. He may have found it in rookie Bones Hyland. The No. 26 overall pick in 2021 averaged 14.3 points in March, including three 20-plus point performances, and the Nuggets will need that kind of offensive punch off the bench.
— Ohm Youngmisuk

25. The Minnesota Timberwolves might have the best-shooting big man … ever
After joining Dirk Nowitzki as the two tallest 3-point contest winners, the 6-foot-11 Karl-Anthony Towns declared himself "the greatest big man shooter of all time." No player taller than 6-foot-10 has matched Towns' 39.7% career accuracy with more than 50 3-point attempts, per Stathead.com. Pro Basketball Talk noted he also matches Nowitzki on long 2s. Still, Dirk's edges in foul shooting (88% to 83%) and volume (1,982 career 3s) might give him the nod … for now.
---
26. The Wolves' starting five is scary good
The Timberwolves' primary starting five (Patrick Beverley and D'Angelo Russell at guard, Anthony Edwards and Jarred Vanderbilt at forward and Towns at center) is in lofty company as one of just seven lineups leaguewide to outscore opponents by at least 100 points while on the court, per NBA Advanced Stats. It will be interesting to see whether coach Chris Finch leans more heavily on this group in the postseason and if that success carries over.
---
27. Love the play-in tournament? The Wolves did it before it was cool
You can probably thank Minnesota, along with the Nuggets, for helping demonstrate the viability of the play-in tournament. Back in 2018, the Timberwolves snapped a 13-year playoff drought by beating the Nuggets on the season's final night to claim the eighth seed in front of a national TV audience. Now, Minnesota is headed to the play-in to try to get back in the playoffs for the first time since then.
---
28. Ant-Man is out there bending the laws of physics
Anthony Edwards takes flight for a wild throwdown, but Gabe Vincent gets the foul called in his favor.
Because Edwards, the No. 1 pick of the 2020 draft, has said he isn't interested in entering the dunk contest as an "in-game dunker," the postseason will be the best opportunity for a national audience to see him take flight. But Edwards' best throwdown this season didn't count; he powered over Miami's Gabe Vincent in November but was called for a charge.
— Kevin Pelton

29. The LA Clippers love postseason small ball
Coach Ty Lue had the Clippers thriving last postseason when he went small and had a lineup that could switch, disrupt and create mismatches. With Norman Powell returning last week after nearly two months out due to a fractured bone in his left foot, Lue could trot out a lineup that includes switchable defenders like Paul George, Nicolas Batum, Powell, Marcus Morris Sr., Robert Covington and Terance Mann. Powell is getting 2019 champion Raptors vibes from the Clippers' defensive versatility and "firepower." "I think we can be really dangerous," Powell told ESPN. "I'm excited for what we can do in the playoffs. I definitely think teams are definitely going to have to worry about us, just how deep our team is."
Paul George is unstoppable as he drops 34 points in his return, leading the Clippers to their third 25-point comeback victory of the season.
---
30. Playoff Play-in P is here …
After missing three months with a torn ligament in his shooting elbow, George returned and has given the Clippers a massive boost heading into the play-in. He scored 34 points in his return on March 29 and has looked confident since. Offensively, he gives the Clippers an elite scorer, someone who can play-make, draw double-teams and disrupt opponents with his defense. He's the type of superstar who can win a series if he can regain his rhythm in a handful of games before the postseason begins.
---
31. … And the door isn't closed on a Kawhi Leonard return
The notoriously private Leonard started an individual workout on the court before a Clippers practice in front of media members on Tuesday, working on jab-step jumpers from midrange and behind the arc. He isn't a year removed yet from tearing his right ACL on June 14, so the Clippers will move forward with an abundance of caution. The team has yet to officially rule out the two-time Finals MVP, but the real question is: Will the Clippers get far enough for it to make a difference?
---
32. The Clippers need Mr. June in April
Reggie Jackson had a big June last postseason against Dallas, Utah and Phoenix, scoring 20 or more points nine times during the Clippers' run to the franchise's first conference finals. Jackson, who signed a two-year deal with the Clippers last summer after reviving his career in L.A., has had to carry the Clippers offensively with Leonard and George sidelined, but the 31-year-old guard has been up to the task. Jackson averaged 19.1 points and 5.8 assists per game in March with the Clippers locked in a race for play-in seeding.
— Youngmisuk

33. The New Orleans Pelicans' stars have found their groove
After a 1-4 start, the Pelicans have won eight of 10 games in which CJ McCollum and Brandon Ingram have played together. Ingram has missed time with a hamstring injury, but the two have discovered a chemistry on the court. The Pelicans have a 116.9 offensive rating with those two on the court, the third-best rating on the team among two-man lineups with at least 200 minutes. The only two better are McCollum with two other starters: Jonas Valanciunas (119.0) and Herb Jones (117.5).
Pelicans' Jaxson Hayes grabs the rebound and takes it to the rack himself for the and-1.
---
34. Jose Alvarado is taking people's cookies
Take your eyes off the ball and the Pelicans rookie point guard could cause havoc in the backcourt. Alvarado has perfected the hide-in-the-corner-and-chase-you-down steal this season. In fact, according to Second Spectrum tracking, he leads the league with 19 backcourt steals despite playing only 812 minutes.
Don't let Jose find you in the backcourt 🍪

Jose Alvarado currently leads the league is backcourt steals with 19 and is also averaging 3.1 steals per 36 🔥 pic.twitter.com/OhmXFO8f65

— New Orleans Pelicans (@PelicansNBA) March 31, 2022
---
35. The 3s aren't falling in The Big Easy
One of the reasons the Pelicans made the deadline deal for McCollum was to improve their outside shooting. This season, the Pelicans rank last in 3-pointers made (859) and 27th in 3-point percentage (33.2%). The only other postseason team in the league's bottom 10 in 3-point percentage is the Mavericks at 21st overall. After acquiring McCollum, New Orleans didn't improve much from behind the arc, rising to just 26th in 3-point percentage (34.1%) and dipping to 28th in made 3s (280) with the former Portland Trail Blazers sharpshooter on the roster.
— Andrew Lopez

36. The San Antonio Spurs are looking to start a new streak
The Spurs made the playoffs every season from 1998 to 2019 and won five NBA championships during that run. Those 22 consecutive years making the playoffs tied an NBA record set by the Syracuse Nationals/Philadelphia 76ers. If the play-in bound Spurs can knock off the Pelicans and then win one more game, they can start their quest for a new record after missing the playoffs the past two seasons.
Spurs' Keldon Johnson rises up and throws down the one-handed jam on the Trail Blazers.
---
37. Murray has been a steadying force …
First-time All-Star Dejounte Murray has averaged 21.2 points, 9.3 assists, 8.4 rebounds and 2.0 steals per game to go along with his single-season franchise-record 13 triple-doubles. Murray is the first player in NBA history to average 20-9-8-2 over an entire season.
---
38. The Spurs set a record in a very Spurs-ian stat
San Antonio averaged 27.9 assists per game, which is No. 2 in the league this season. At the same time, the Spurs rank sixth in the league in fewest turnovers (12.8 per game). That assist-turnover ratio of 2.19 not only leads the league, but no team has reached that ratio since team turnovers were first tracked in 1970-71.
— Lopez

EASTERN CONFERENCE
---
39. The Miami Heat and the curious case of Jimmy Butler's 3s
Heading into the last month of the season, Butler's splits from beyond the arc were … not great:
October: 0.5 makes on 1.3 attempts per game

November: 0.3 makes on 2.0 attempts per game

December: 0.5 makes on 1.3 attempts per game

January: 0.5 makes on 2.4 attempts per game

February: 0.2 makes on 1.8 attempts per game

March: 0.6 makes on 2.4 attempts per game
Then came April, and Butler, while noting his teammates have been telling him to shoot more from distance — recorded 1.3 makes on 3.0 attempts per game. It's a trend the Heat need to stick in the playoffs.
Kendrick Perkins discusses the reasons he believes the Miami Heat are title contenders.
---
40. They have the runaway Sixth Man of the Year favorite …
Tyler Herro has had a terrific season off the bench, averaging 20.7 points, 5.0 rebounds and 4.0 assists per game. He is a key reason the Heat vaulted all the way back to the top of the East this season. The 22-year-old's ability to maintain that production in the postseason will be critical to the Heat's success — especially given how poorly he shot in last season's East quarterfinals against the Bucks. Herro averaged just 9.3 points on 31.6% shooting in Milwaukee's sweep.
---
41. … And they have another secret weapon off the bench
Max Strus had a breakout season in Miami — averaging 10.6 points a game while shooting 41% from beyond the arc. The 26-year-old showed he could provide solid minutes when called upon and figures to see some important ones when the Heat need to stretch the floor. Strus, Herro and Duncan Robinson have the offensive ability to create plenty of matchup issues.
— Nick Friedell


42. The Boston Celtics have been a new team since late January
Prior to going to Washington on Jan. 23, Boston was a .500 team barely outscoring its opponents. Since then, the Celtics have clearly been the best team in the East, outscoring teams by more than 14 points per 100 possessions while rocketing up the standings from the bottom of the play-in tournament morass to claiming home-court advantage in the first round and establishing themselves as legitimate title contenders.
Relive the highlights that helped turn the Celtics' season around after a tough loss to the Knicks in January.
---
43. They lost their defensive anchor in March
Robert Williams III has been one of the NBA's most improved players this season and a linchpin of Boston's league-leading defense. Without him for at least the first round of the playoffs, the Celtics will be relying on the combination of Al Horford, Daniel Theis and Grant Williams to hold the fort until Robert Williams is ready to return after undergoing meniscus surgery on March 30.
---
44. One of the best deadline additions had an up-and-down second half
Derrick White's arrival in Boston at the trade deadline has played a big role in the team's resurgence, as he is both a quick decision-maker offensively and a stout defender. But as teams lock into their opponents more closely in the playoffs, White's 3-point shooting — he hit just 30.6% from deep in a Celtics uniform — will be a key to watch alongside the playmaking of Jayson Tatum and Jaylen Brown.
---
45. Marcus Smart could end the DPOY domination by big men
Smart is one of the leading candidates for Defensive Player of the Year and says his versatility is a big reason he should become the first point guard to win the award since Gary Payton in 1996. According to ESPN Stats & Information research and Second Spectrum tracking, Smart has switched 422 times as the ball-handler defender against on-ball screens this season, the third most in the NBA. The Celtics have allowed 0.89 points per chance on these plays — the league average is 0.95.
— Tim Bontemps

46. The Milwaukee Bucks' Giannis Antetokounmpo just put up another MVP-worthy campaign …
Antetokounmpo is a contender to win his third MVP after another dominant season leading the defending champs. He's spent stretches this season as their primary playmaker and spent more time at center than ever before, all while challenging for the scoring title at 29.9 points per game (third in the NBA) and being a contender for the Defensive Player of the Year award.
Giannis Antetokounmpo goes in for the emphatic slam to extend the Bucks' lead over the Pistons.
---
47. … And Antetokounmpo gets even better in crunch time
When the game is on the line, Antetokounmpo has been at his best. He has scored 528 points in 526 fourth-quarter minutes, one of only five players in the play-by-play era (since 1996-97) to average at least one point per fourth-quarter minute. He also became the first player in the past 25 years to average at least eight points on 55% shooting in the fourth quarter during a single season.
---
48. Brook is back, and just in time
The Bucks played almost the entire season without starting center Brook Lopez, who needed back surgery on Dec. 2 and has appeared in just 11 games this season. But Lopez has come back exactly as the rim protector Milwaukee remembers, holding opponents to 12-for-40 shooting (30%) at the rim. Last season, Lopez ranked second in field goal percentage allowed at the rim, trailing only Warriors forward Draymond Green.
---
49. Milwaukee's defense slipped, but history is on its side
Defense has been the calling card in Milwaukee each year under coach Mike Budenholzer, but for the first time during his four-year tenure, the Bucks finished outside the top 10 in defensive efficiency, dropping to 14th. En route to the championship last year, the Bucks' defense went from No. 9 during the regular season to No. 1 in the playoffs, so they will be counting on a similar step up to carry them through their repeat pursuit.
— Jamal Collier

50. The Philadelphia 76ers can't be stopped when Harden and Embiid share the court
Since pairing Harden and Embiid at the trade deadline, Philadelphia has seen the new superstar duo dominate. Philadelphia outscored teams by 15.9 points per 100 possessions with their two All-Stars sharing the court, the second-best mark among NBA duos with at least 600 minutes playing together.
Kendrick Perkins explains why he is picking Joel Embiid as his NBA MVP.
---
51. Tyrese Maxey might have won the Ben Simmons trade
While Simmons waited to be traded, Maxey entered his sophomore season having been handed the keys to Philadelphia's offense as its starting point guard. All he did was average 17.4 points per game and shoot 43.3% from 3-point range. That shooting improvement, coupled with Maxey's blinding speed, has made him a tremendous find for the 76ers late in the 2020 draft and a core piece of their future.
---
52. The Sixers can't guard anyone in transition
Per ESPN Stats & Information research, since Harden arrived in Philadelphia at the trade deadline, 76ers opponents have shot 64.9% in transition, the worst field goal percentage allowed during that span. Before the deadline, it was 55.7%, good for 20th in the NBA. Make no mistake: Teams will be running on Philly.
---
53. They're also stuck in a backup center carousel
After Andre Drummond was included in the Simmons trade to Brooklyn, 76ers coach Doc Rivers has been mixing and matching his backup center options, generally going with DeAndre Jordan — though he notably went with Paul Millsap against Milwaukee late in the regular season. Both veterans have struggled, continuing an annual trend in which Philadelphia plays poorly whenever Embiid hits the bench; the Sixers' net rating drops almost 12 points per 100 possessions when he sits.
— Bontemps

54. The Toronto Raptors have a bench — they just don't use it very often
At a time when managing player health is more important than ever, Toronto's willingness to play its starters heavy minutes is a throwback. Each Raptors starter — Fred VanVleet, Pascal Siakam, OG Anunoby, Scottie Barnes and Gary Trent Jr. — is inside the top 30 in the NBA in minutes per game, with VanVleet and Siakam at the top of that list, both averaging 37.9. It will be interesting to see how Toronto's ceiling adjusts in the playoffs as other teams play their top players as much as the Raptors already are.
---
55. Barnes is the real deal
If Barnes, the fourth overall pick in 2021, doesn't win Rookie of the Year, it's only because this is a historically strong rookie class, with Cleveland's Evan Mobley and Detroit's Cade Cunningham also making strong cases for the award. But Toronto unquestionably has a keeper in Barnes, a 6-foot-7 wing who is averaging 15.4 points and 7.6 rebounds and plays with an infectious energy. It's rare for a rookie like this to land on a playoff team, but it will be fun to see how Barnes plays on the big stage.
---
56. The Raptor … uh … finds a way
While shooting free throws, Devin Booker complains to the referees that the Raptors mascot is distracting him behind the backboard, so they send him to the opposite end of the court.
Devin Booker took issue with Toronto's trouble-making mascot in January for its antics during Booker's free throws late in what became a Phoenix win. What player could pick up that mantle of feuding with The Raptor in the playoffs?
— Bontemps

57. The Chicago Bulls' DeMar DeRozan is the new king in the fourth
DeRozan has carried the Bulls to a few close wins this season by being excellent in the clutch. This season, he has scored 157 points on 53.5% shooting in clutch time — defined as the final five minutes of the fourth quarter or overtime with the score within five points — becoming only the fourth player in the past 10 years to pull it off, joining Damian Lillard last season, LeBron James in 2017-18 and CJ McCollum in 2016-17.
DeMar DeRozan drains a game-winning 3-pointer from the corner to seal a 120-119 Bulls win.
---
58. They couldn't beat the East's best — which seems problematic in, you know, the East playoffs
The Bulls started the season competing for one of the top seeds in the East but fell back in the standings because they had very little success against the other playoff teams. Chicago finished the season 1-14 against the top four teams in the conference, the second worst winning percentage by a playoff team against the top four in their conference since 1984. Only the 2019-20 Orlando Magic, who went 0-14, were worse.
---
59. No "Chi Slamma Jamma" in the postseason
One of the staples of the Bulls' surprising start were cross-court, fast-break lasers from Lonzo Ball, often followed by an alley-oop dunk from Zach LaVine. Ball finished third in transition assists per game on passes that traveled at least 40 feet, according to Second Spectrum tracking, one of the more fun elements to a Chicago offense that has been lost after his left knee injury. Ball won't return this season.
---
60. The Bulls had second-half 3-point woes — on both sides of the ball
The absence of Ball exacerbated two of the biggest issues hindering the team in the second half — their dip defensively and shooting woes from 3-point range. Chicago survived taking the fewest 3-pointers in the NBA this season because they ranked in the top five in 3-point percentage. However, after the All-Star break, they ranked 23rd in 3-point percentage while still taking the fewest attempts per game. Defensively, the Bulls have dropped from 10th in the league on Jan. 1 to 23rd.
— Collier

61. The Brooklyn Nets' stars have overcome a porous defense
Kevin Durant and Kyrie Irving are two of the most dynamic offensive players in recent NBA history. They can get their own shot seemingly whenever they want and both players continue to display their dominance, as evidenced by Durant's 55 points in an April 2 loss to the Hawks and Irving's 60 points in a March 15 win over the Magic. But will that offensive brilliance hold up? The Nets' defense has been sliding since a strong start to the season — they come into the postseason ranked 20th with a 112.3 defensive rating.
Jordan Cornette and Jay Williams get in a heated debate about how the Nets' season has unraveled given how it started.
---
62. There could be a Ben Simmons sighting
Nets coach Steve Nash has been clear that he wouldn't have an issue plugging Simmons into a playoff game even though the three-time All-Star hadn't played all season. And while Simmons has been ruled out of the play-in tournament, the door is open for a potential debut later in the postseason. Sources told ESPN's Adrian Wojnarowski that Simmons' progress is fueling hope that he could debut sometime in the first round.
---
63. Bruce Brown is Brooklyn's 6-foot-4 spark plug
The 25-year-old wing — who has been known to bang in the paint — ramped up his game in March, averaging 14.7 points, 5.5 rebounds and 3.7 assists. He also provides a defensive lift and has been open about how motivated he was to improve this summer after the way the Bucks defended him in the East semifinals last season.
64. The Nets got a second-round steal last summer
Kessler Edwards played so well down the stretch that he earned a standard contract after being on a two-way deal all season. Not only has the 2021 second-round pick out of Pepperdine made a difference with his length and athleticism on the floor — but he shot a robust 47.4% from beyond the arc during 12 games in March.
— Friedell

65. The Cleveland Cavaliers are kind of a big deal …
One reason the Cavs dramatically exceeded expectations? (They beat their preseason over-under total of 26.5 wins by a league-high 17.5 wins.) The surprising success of a frontcourt with three players taller than 6-foot-10 (Jarrett Allen, Lauri Markkanen and rookie Mobley). With those three on the court, the Cavaliers outscored opponents by 7.9 points per 100 possessions according to NBA Advanced Stats. Cleveland is 22-14 (.611) when all three players start.
The Cavaliers sweep the season series against the Knicks after a 119-101 win at Madison Square Garden.
---
66. … Seriously, don't go into the paint
Led by the duo of Allen and Mobley, the Cavaliers have protected the rim as well as anyone in the NBA. Opponents have made just 60.5% of their attempts in the restricted area against Cleveland, the league's lowest mark. Allen in particular outperforms his modest block rate, holding opponents to 51% shooting inside five feet as the nearest defender, according to Second Spectrum tracking, the fifth-lowest mark among players contesting at least 200 attempts.
---
67. Darius Garland has become a problem
As a rookie in 2019-20, and coming off a meniscus injury that limited him to five games at Vanderbilt, Garland was one of the league's worst high-minute players. Two years later, at age 22, he was rightfully an All-Star in the game Cleveland hosted. Garland has developed rapidly into one of the league's best pick-and-roll maestros, capable of pulling up for 3, driving to the basket or setting up teammates.
---
68. The injury bug hit Cleveland early and often
The Cavaliers put together their first .500-plus season since LeBron left for Los Angeles despite being hit hard by injuries. No Cleveland starter played more than 68 games, including season-ending injuries for guards Collin Sexton and Ricky Rubio. Injuries hit hard down the stretch as the Cavaliers went 7-11 after All-Star Jarrett Allen was lost to a finger fracture, sending them into the play-in tournament.
— Pelton

69. The Atlanta Hawks are out to shock the NBA world again
Last season, the Hawks stunned the league with their late-season turnaround and trip to the East finals. Could they surprise everyone again? To do so this time, they'll have to win twice to make it out of the play-in tournament. But the Hawks have been exceptional at home this season (third-most home wins in the East) and any team with Trae Young in the playoffs will have a chance.
Trae Young let the "boos" fuel him with a 45-point night in win over Knicks.
---
70. Trae set a "Tiny" record
It went down to the final week of the season, but Young joined Nate "Tiny" Archibald in 1972-73 as the only players in NBA history to lead the league in total points and total assists. Young passed DeMar DeRozan for the lead in points late and held off Chris Paul for the lead in assists. Overall, Young averaged 28.4 points and 9.7 assists, finishing fourth in scoring and third in assists.
---
71. The Hawks' elite 3-point shooting makes them a threat …
Young has a reputation for being an excellent high-volume 3-point shooter — he's sixth in the East with 8.0 attempts per game with a 38.2% clip — but he's not Atlanta's only deep threat. The Hawks are second in the NBA in 3-point percentage (37.4%) and have 10 players with at least 100 3-point attempts — the worst percentage among that group being Timothe Luwawu-Cabarrot at 36.1%. That number is still better than 19 NBA teams this season.
---
72. … But their defense could send them home early
Atlanta ranks 26th this season in defensive rating (113.7 points allowed per 100 possessions) but they still own a positive net rating. Atlanta also is bottom 10 in the league in opponent field goal percentage (47.1%) and opponent 3-point percentage (36.4%).
— Lopez

73. The Charlotte Hornets' LaMelo Ball took a leap …
By making the All-Star Game in his second season, Ball joined elite company as the fourth-youngest All-Star in NBA history, trailing Kobe Bryant, LeBron James and Magic Johnson. It's not fair to expect Ball to live up to the standard of those legends, but it's reason to believe LaMelo's future is bright.
LaMelo Ball goes through his legs and off the glass to a trailing Montrezl Harrell for a big-time flush.
---
74. … And so did Miles Bridges and Terry Rozier
After starting just 19 of the 66 games he played in 2020-21, Bridges has emerged as the Hornets' leading scorer this season at 20.2 PPG. Ahead of hitting restricted free agency, Bridges increased his usage rate (a career-high 23%) and is creating his own shot on a more regular basis. Despite a drop-off from 3-point range, he's maintained his accuracy inside the arc, making him a player to watch this summer. Rozier's play was a key reason the Hornets stayed the course without the injured Gordon Hayward. After a slow start that produced questions about the four-year, $97 million extension he signed last summer, Rozier caught fire in March, averaging 21 PPG while shooting 43% from 3-point range and 33-of-34 (97%) at the foul line. If Charlotte gets that type of shooting performance from Rozier in the play-in, look out.
---
75. The ball buzzes around the court
The Hornets led the NBA by averaging 28.1 assists per game. As a percentage of field goals made, Charlotte ranked third in assist rate (66%) behind the Nuggets and Warriors. LaMelo was key there, but the Hornets had five players (Ball, Rozier, Bridges, Hayward and Mason Plumlee) average at least three assists. Just three other teams had more.
— Pelton