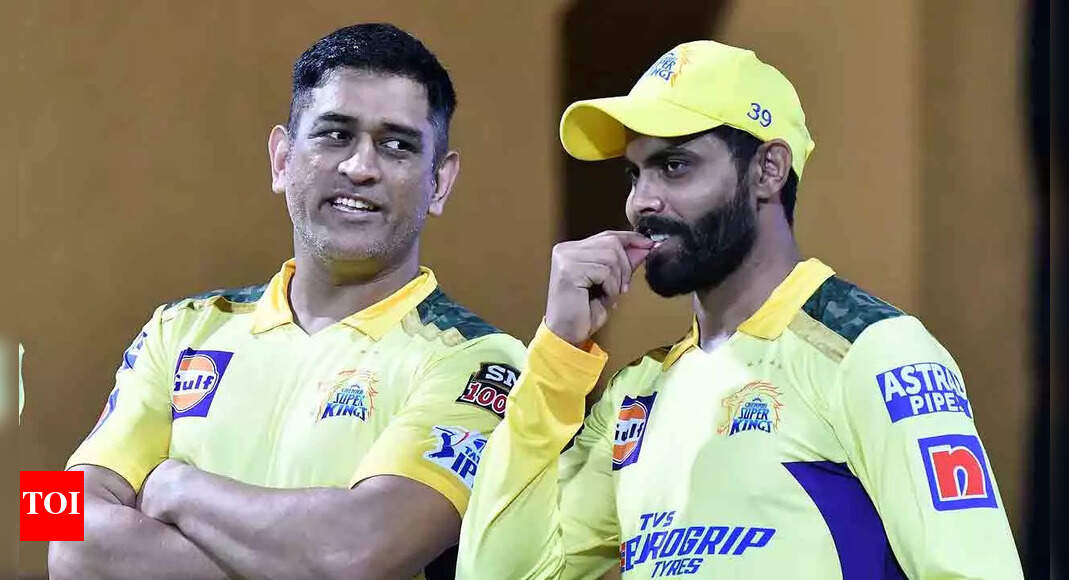 With
MS Dhoni
still calling the shots in a team led by
Ravindra Jadeja
, things haven't quite gone to plan for the four-time champions
"Can you please tell us who the captain is? You stand at the deep and the field gets changed," a journalist didn't mince words and had Ravindra Jadeja on the wrong foot for a moment.
Chennai Super Kings, under
Jadeja
, had just lost their third IPL match in a row – a new low in the history of the franchise – and it wasn't unjustified to ask why things were going wrong so far for the defending champions. While Jadeja had to face the uncomfortable questions off the field, it was quite clear that he wasn't the actual leader of the team on it. Other than going in for the toss, Jadeja, on the field, hasn't had much role as the skipper and the journalist was right in pointing out that every field, or bowling change was being handled by Dhoni. The TV cameras closed in too as coach Stephen Fleming, during one of the breaks, was doing all the discussion with Dhoni as Jadeja seemed like a bystander.
"I feel that Dhoni is still captain of the team. When I look at Jadeja, he is fielding outside the ring. By doing that you won't be able to control too many things and he has given headache to Dhoni to look after the field setting. He is shedding some of his own weight and putting it on Dhoni's shoulders," Harbhajan Singh, former CSK and Mumbai Indians offie, explained the situation in a post-match TV show.
It is not the most charitable remark for Jadeja, who probably sees the CSK captaincy as a steppingstone for staking claim as India's white ball skipper after Rohit Sharma. Jadeja is comfortably India's No. 1 allrounder in white-ball cricket and the fact that his contemporaries like KL Rahul, Shreyas Iyer, Hardik Pandya and Mayank Agarwal are leading other teams in the IPL must have added to his appetite to lead a franchise. It was a given that Jadeja would lead CSK one day, but Dhoni decided to make the transition process seamless by handing over the leadership when he was still around on the field. It's true that this formula had worked beautifully when Kohli became an all-format skipper of India and Dhoni helped him out in white-ball captaincy. But one must not forget that Kohli and Jadeja are not the same, just as there is a difference between CSK and Team India.
Kohli, despite the faith that he had shown in Dhoni, was still his own man on the field, but Jadeja still now hasn't shown that he is in charge. The fact that Dhoni is more than just a player for CSK – he is the heart and soul of the franchise – makes it even more difficult for Jadeja to impose himself on the field. The CSK management, though, insists that Jadeja was being groomed for captaincy and he was made a part of decision-making process. And the Saurashtra southpaw, too, says that he is comfortable getting those "inputs" from Dhoni while leading.
The rocky start to the CSK campaign hasn't only been about the captaincy transition. CSK's well-documented strategy of banking on old hands hasn't given the returns thus far. It is looking even more glaring because some of the other Indian newcomers like Ayush Badoni (Lucknow), Lalit Yadav (Delhi Capitals) and Vaibhav Arora (Punjab Kings) are making a significant impact.
There has been one positive, though, and that is the batting form of Dhoni.